BRT Präzisionswerkzeuge is a business division of TBT Tiefbohrtechnik GmbH + Co. and has extensive knowledge in this specialist sector when it comes to deep drilling tools and processes. With our comprehensive expertise, we have built up a large customer base over many years and work with them to constantly develop their deep drilling processes, providing economic solutions that meet their specific requirements.
Even today, deep drilling processes are unfamiliar territory for many machine operators, and BRT-Präzisionswerkzeuge supports them with high-quality tools and in-depth consultation.
The company produces BRT gun drills in different versions, single flute, twin flute, and since 2010 also helical drilling tools. The portfolio is rounded off with accessories for gun drills such as sealing housings, whip guide bushes, and drill bushes. We offer a full repair service for worn and broken drill heads.
We do not make a lot of words, we focus on the essentials: We concentrate on the essentials: Perfection and customer proximity.
We involve our customers in our work; we believe excellence of product is achieved by both.
We involve our customers in our work; we believe excellence of product is achieved by both.
We have grown continuously with this philosophy for over 20 years. It is particularly important to us to process our customers' orders to perfection and react flexibly to the demands of the market. Our owner-oriented company management provides a sound basis for this approach, ensuring that our customers understand how we work and always know who to contact. Of course, we are aware that our clients have high expectations of our work – but our expert team means we have no trouble meeting these expectations at any time.
The size of our business means we are in the perfect position to achieve our market goals and remain relevant for the future. We want to build on this and continue to grow steadily, but still remain efficient. We are convinced that making quick decisions requires short lines of communication and excellent teamwork. So we will continue to cultivate our tried and tested methods, but of course remain open to new things.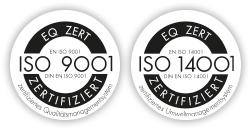 Quality management
Quality is our top priority. Therefore, our tools undergo several quality tests before being shipped in order to be able to supply you with products of impeccable quality.
We are certified according to ISO 9001:2015.
The Quality of our drills comes first. Therefore only perfect quality products are allowed to leave the plant.
Customer satisfaction in paramount: we always deliver on time.
Errors are not condemned. They are meant to be disclosed, so that improvements can be made immediately. This ensures greater losses and costs are prevented. We all learn from our mistakes.
In order to produce as efficiently as possible, our workplaces must be optimally organized and kept clean.
We work to protect the health and safety, and job security of our employees.
Our aim is to develop our business through continuous improvement, so that our capability and competitiveness are maintained and extended.
We always try to choose alternatives to create the minimum possible impact on mankind and the environment.
We strive for continuous improvement that contributes to ecological, economic and technical developments
We always plan and implement our business operations, in accordance with the legal provisions.